ICOMSA
International Conference on Modern and Sustainable Agriculture
"Building Future Agriculture for Better World"
August, 2nd-3rd, 2022 I Bogor – Indonesia (UTC +07.00)
The ICOMSA 2022 – CALL FOR PAPER
Background
Modern agriculture is an ever-changing approach to agricultural innovations and farming practices that helps farmers increase efficiency, increase productivity and reduce the number of natural resources needed. Modern farming practices allow farmers to increase productivity while decreasing environmental impact through sustainable agricultural practices. Modern and Sustainable agricultural practices can be the solution for foods, fibers, and energy access.
The role of universities is to ensure that the wheels of food production and the entire value chain are well oiled with the necessary knowledge and skills to ensure the development of the agricultural sector by sustainable agricultural practices for a better world. The plan for holding International Conference on Modern and Sustainable Agriculture (ICOMSA) 2022 is to be a collaboration with the International Society for Southeast Asian Agricultural Scientists (ISSAAS). At this conference, we would like to discuss various aspects related to modern and sustainability in agricultural science.
Programs
ICOMSA 2022 will consist of virtual keynote speaker, plenary sessions, parallel sessions, and international student competitions. Various aspects related to modern and sustainability in agricultural science will be discussed during the virtual conference.
Keynote Speaker
Dr. Ir. Suwandi, M.Si
Director of Food Crops, Indonesian Ministry of Agriculture
Prof. Dr. Arif Satria, SP., M.Si
Rector of IPB University
Welcoming Speech
Prof. Dr. Ir. Suryo Wiyono, M.Sc.Agr
Acting Dean Faculty of Agriculture, IPB University
Dr. Ir. Suwardi. M.Agr
President of the International Society for Southeast Asian Agricultural Sciences, (ISSAAS) Indonesian Chapter
Invited Speaker
Prof. Abdul Rashid Muhamed Shariff, Universiti Putra Malaysia, Malaysia
Remote Sensing and Geographic Information System in Modern Agriculture
Prof. Byoung Ryong Jeong, Gyeongsang National University, South Korea
Protected Horticulture and Plant Factory
Prof. Makoto Yokohari, The University of Tokyo, Japan
From Grey Compact to Green Disperse
Dr. Greta Formaglio, French National Institute for Agricultural, Food, and Environment, France
Fertilizer Management in Oil Palm Plantation
Prof. Salmah Yaakop, Universiti Kebangsaan Malaysia, Malaysia
Molecular Systematics and Diversity Taxonomy of Insect Species
Prof. Masayoshi Shigyo, Yamaguchi University, Japan
Genetic and Breeding of Vegetable Crops
Prof. Anas D Susila, IPB University, Indonesia
An entry point: Toward Precision and Smart Vegetable Production for Small Scale Farmer
Prof. Hadi Susilo Arifin, IPB University, Indonesia
Landscape and Urban Farming
Scope
crop production, ecophysiology, breeding, and biotechnology;
water, irrigation, and fertigation;
soil and nutrient management;
plant protection and agricultural microbiology;
landscape and urban farming, spatial agriculture, and modeling;
protected agriculture;
smart and precision farming;
mitigation and adaptation on climate change;
biodiversity, agroforestry, and agricultural environment.
Important Dates
April 29th, 2022
:
First announcement
May 15th – June 20th, 2022
:
Abstract submission
June 25th, 2022
:
New deadline abstract submission
June 27th, 2022
:
Notification acceptance (email notification)
June 28th, 2022
:
2nd Batch abstract submission
June 30th, 2022
:
2nd Batch notification acceptance
(email notification)
June 28th – July 20th, 2022
:
Full paper submission
July 15th, 2022
:
Registration conference payment deadline
August 2nd-3rd, 2022
:
Conference date
Facility
E-certificate
IOP Conference Series: Earth and Environmental Science*
*Selected paper will be published
*Indexed by Scopus
Conference and Publication Fee
Oral Presentation
Public
Domestic
IDR 500,000
International
USD 40
Student
Domestic
IDR 300,000
International
USD 25

Additional fee for publication

Domestic
IDR 1,200,000
International
USD 100
Participants only: Free
Transfer Payment
Domestic

Payment

Bank Name
:
BANK NEGARA INDONESIA (Persero), PT
Account Number
:
0199581600
Account Holder
:
Rector IPB c/q KS-FAPERTA
International

Payment

Bank Name
:
BANK NEGARA INDONESIA (Persero), PT
Town/Country
:
Bogor/ Indonesia
Account Number
:
3898023
Currency
:
USD
Swift Code
:
BNINIDJABGR
Account Holder
:
Rector IPB c/q KS-Dollar
Registration and Submission:
Download the template and poster from the link below:
Contact Person
Fathoni (+62 857-3657-0141)
Ridwan (+62 858-5626-3587)
INTERNATIONAL STUDENT POSTER COMPETITION
Tropical Agriculture in The Future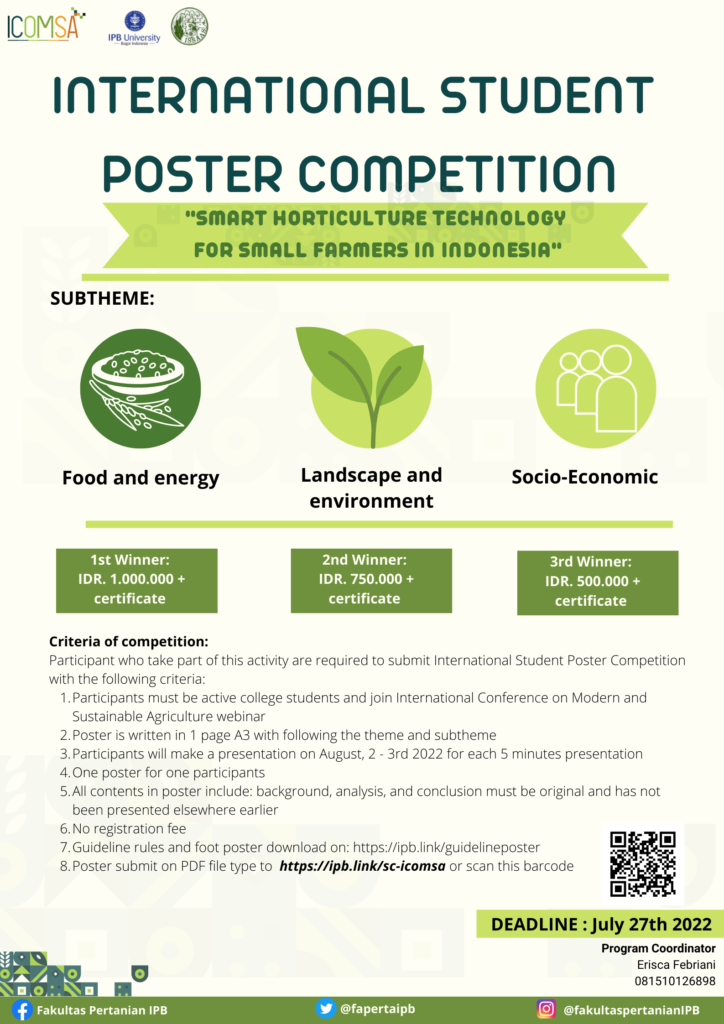 Participants can choose one of 3 subthemes: food and energy, landscape and environment, and socio-economic.
The participant who takes part in this activity is required to submit International Student Poster Competition with the following criteria:
1. Participants must be active college students and join International Conference on Modern and Sustainable Agriculture webinar;
2. Poster is written on 1 page A3 with following the subtheme: food and energy, landscape and environment, socio-economic;
3. Participants will make a presentation on August, 2 – 3rd 2022 for each 5 minutes presentation;
4. One poster for one participant
5. All contents in the poster include: background, analysis, and conclusion must be original and have not been presented elsewhere earlier
6. No registration fee
7. Deadline on July 27th, 2022
8. Guideline rules and foot poster download on: https://ipb.link/guidelineposter
Registration
Contact Person:
Erisca (+62 815-1012-6898)
Secretariat
Faculty of Agriculture, IPB University
Campus IPB Dramaga, Bogor, 16680
Phone/fax: +62 251 8629350/ +62 251 8629352
Email: icomsa@apps.ip.ac.id