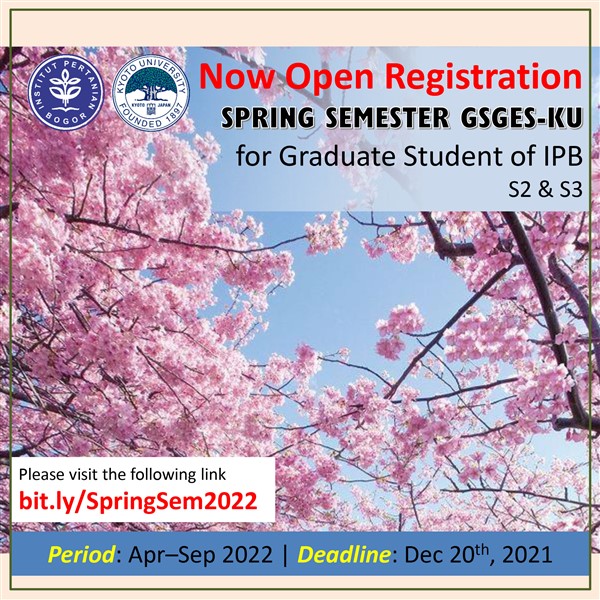 Spring Semester in Kyoto University
Graduate School of Global Environmental Studies (GSGES), Kyoto University invites graduate students from IPB University to join Special Audit Student Program for studying at Kyoto University under the auspices of three projects: the "Project for Creation of Trans-ASEAN Environmental and Social Innovators through Development of Overseas Satellites", the "Top Global University Project", and the "Reinventing Japan Project". The course consists of several lecture classes in the GSGES master's program, supervision on specific research topics by relevant professors at GSGES, a field trip and other educational activities.
Number of students from IPB University to be accepted with scholarship is around 5. Yet, this quota may change. The committee will update it during the selection process.
Course Coverage
Opportunity to join the official course of the master's program at GSGES, supervision and training for your thesis study, and other educational activities such as a field trip. Each applicant may choose subjects according to his/her study topic. Eight credits (compulsory) or more can be obtained from interdisciplinary course work on environmental issues through the spring semester. A certificate will be issued to those who have completed the course requirements (please see below). These credits may be transferred if your graduate school recognizes GSGES credits.
Fields of Study
Environmental management, including science, social science, engineering, and agriculture. See attachment section.
Completion requirements
Presentation of study plan, completion of four compulsory subjects (8 credits), final presentation, study report, interview, ongoing contact with the course by SNS or e-mail.
Duration of Stay in Kyoto
Six months (From the beginning of April to the end of September 2021)
Scholarship Coverage
A round-trip flight ticket from the nearest airport to Kansai Airport
Living expense of JPY 80,000 per month (includes national health insurance and research incident insurance expense)
(At Kyoto University, tuition fees can be waived for both types of students (with/without scholarship)
Qualified Applicants
Full-time master's or doctoral students in IPB University
Students from any study program in IPB may apply if suitable with the research theme of this program. See attachment section.
Obtaining permission from current supervisors.
Having a good skill in English
Required Documents
All document mentioned below, except application form, should be in PDF in 300-dpi resolution, or higher if the text is too small.
Fill in the application form. See attachment section
Acknowledgement of participance signed by your supervisor, or the head of your department if you do not have a supervisor
Academic transcript of undergraduate program in English
Latest academic transcript of graduate program in English (skip this if you have not received academic transcript yet)
Scan of passport (page with facial photograph and passport number, validity).
Curriculum Vitae
Certification of your current student status (Surat Ket. Mahasiswa Aktif)
An official certificate to show your English ability, if available. We strongly recommend you to use official certificate. Prediction one is sometimes acceptable. But please understand that if the number of applicants exceed our capacity to conduct the interview, those with official one will be prioritized.
Registration Steps and Selection Process
Consider carefully the laboratory you are interested to join. See attachment section.
Fill in this google form https://bit.ly/GFormSS22 and upload all the required documents there (deadline is December 20 2021, 23.59 WIB). NOTE: You may see there is different selection procedure between announcement in PDF (see attachment) and on this webpage. For example, in the attachment, you are requested to send your application form to this email 160kokusaikyotenbukai@mail2.adm.kyoto-u.ac.jp. However, you do not need to follow this instruction. All IPB students should follow the instruction mentioned in this webpage. All IPB students should fill in the google form and upload all requested documents in the google form.
The interview with lecturers from IPB University will be conducted in December 21-24, 2021 via Zoom. The committee will inform you the schedule through email two days before this date.
The documents and interview results are forwarded to GSGES on December 25, 2020
Interview with prospective supervisor in GSGES around January 11 to 14 via Zoom. The committee from GSGES will contact you directly.
Announcement of final selection results: late January to early February 2022.
Attachment
Additional Note
Please consider carefully before applying this program whether you will get academic problem or not if you stay in Kyoto for 6 months
If you obtain administration problem in applying active student certificate or academic transcript in English, please let us know. The committee may give you additional time for several days.
Partner Universities
This program is now open as well for students from the following universities:
– Hanoi University of Science and Technology (INEST) (Vietnam)
– Hue University (College of Agriculture and Forestry / College of Science) (Vietnam)
– Danang University of Science and Technology (Vietnam)
– Royal University of Agriculture (Cambodia)
– Bandung Institute of Technology (SAPPK) (Indonesia)
– University of Indonesia (Indonesia)
– Mahidol University (Thailand)
Information Center
Email: ku-office.faperta@apps.ipb.ac.id
Yuri: 0813-1389-1835
Ardy: 0853-1111-2256
Lecturers in Charge
Dr Ernan Rustiadi (Coordinator of IPB-KU Collaboration)
Dr Nurhayati (Program-specific Associate Professor)
Dr Andrea Emma Pravitasari (Program-specific Assistant Professor)