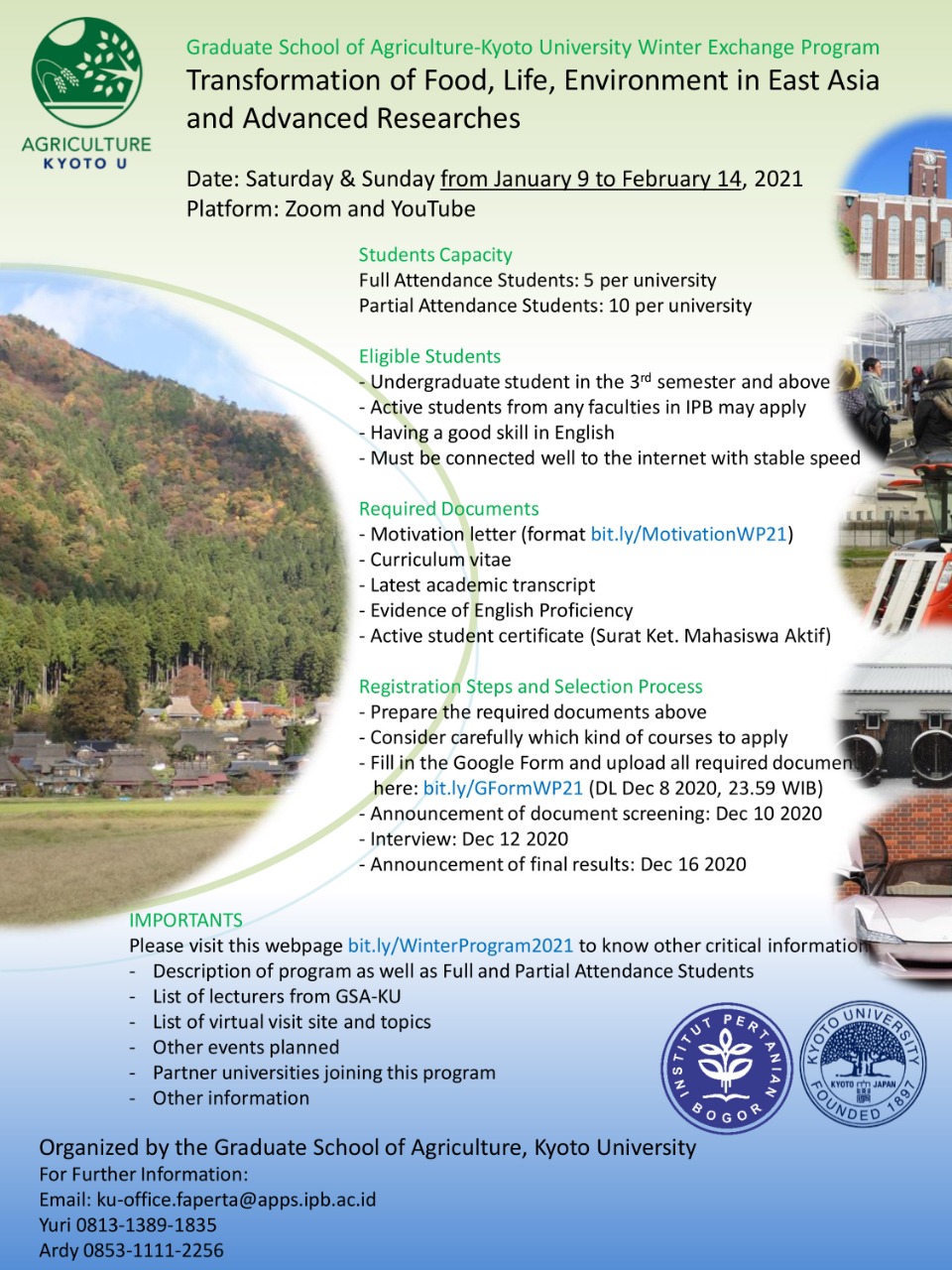 Description
Graduate School of Agriculture, Kyoto University (GSA-KU), will open the winter exchange program from January. This is the online program through Zoom and YouTube, a collaboration between Kyoto University and its partner universities, including IPB University. Students from other partner universities will join as well.
Ten online-lectures and eight virtual site visits are provided in this program. The topic covers most of the field in GSA-KU. KU's students are preparing students exchange program, including virtual sight-seeing and online social activities.
The program will be held on Saturday and Sunday from January 9 to February 14. This is a non-credit program, but the participants who complete the program will receive the certificate of the completion.
Because of educational effects and physical limitation of the platform, the committee set 2 courses in this program and limit the number of students which may attend each course.
Full Attendance Course: Capacity is 5 for IPB students. The students are requested to join all the events of the program, including the group work and final workshop.
Partial Attendance Course: Capacity is 10 for IPB students. Students can freely select the program events including online lectures, virtual site visits, student exchange events, and laboratory tours in a la carte style. These students only cannot join the group work and final workshop.
Eligible Students
The program is free and intended for the following participant criteria:
Undergraduate students in the 3rd semester and above
Active students from any faculties in IPB may join this program.
Having a good skill in English.
Must be connected well to the internet with stable speed for Zoom and YouTube.
Required Documents
For those who are interested, please prepare the documents below in PDF format with the size respectively no more than 1 MB. If the number of applicants exceeds our capacity to perform the interview, these documents will be used for scoring and eliminating some applicants. Last year, the number of applicants exceeded the expected number. So please understand this situation.
Motivation letter: The statement should not exceed 300 words. The format could be downloaded here https://bit.ly/MotivationWP21
Curriculum vitae: You do not need to provide private information such as birth date or home address. The most important are things that can represent your strengths, e.g. achievements in any events or organization in which you have joined. Please attach Photograph. The brief CV is OK.
Latest Academic Transcript: You just need to submit the latest academic transcript in Bahasa Indonesia.
Evidence of English Proficiency: You may submit IELTS, TOEFL ITP, TOEFL iBT, TOEIC, or others (official or prediction is allowed). Students having such kind of certificate issued within last years would be prioritized, especially the official one.
Active Student Certificate: i.e. Surat Keterangan Mahasiswa Aktif. This document must be in English and mentioning your full name, student ID, current semester, major, and faculty. Please contact your administration office.
 Registration Steps and Selection Process
Prepare the required documents above
Consider carefully which kind of courses you want to apply (Full Attendance Course or Partial Attendance Course)
Fill in the following Google Form and upload all required documents there: https://bit.ly/GFormWP21 (deadline of submission is December 8 2020, 23.59 WIB)
The result of document screening will be announced on December 10, 2020, through the website of the Faculty of Agriculture and email.
The interview will be conducted online through Zoom on December 12, 2020. The interviewers are three lecturers of IPB University.
The announcement of final results is on December 16, 2020, through both the website of the Faculty of Agriculture and email.
Certificate
All students can receive one of the program completion certificates depending on the course joined. It will be issued on March 1, 2020.
List of Lecturers from GSA-KU
Japanese Culture: YUKAWA Shikiko
Agronomy and Horticulture: TAO Ryutaro, SHIRAIWA Tatsuhiko, HIGUCHI Hirokazu, NAKAZAKI Tetsuya, DOI Motoaki, YOSHIKAWA Takanori
Agricultural Engineering: KONDO Naoshi, IIDA Michihisa
Applied Life Science: OGAWA Jun, KOBAYASHI Masaru
Agricultural & Rural Policy: AKITSU Motoki
Forest & Biomaterials Science: TERAMOTO Yoshikuni, KANZAKI Mamoru
Landscape Science: SHIBATA Shozo, NUKINA Ryo
Aquatic Environment: YAMASHIKI Yosuke (GSAIS)
List of Virtual Visit Site and Topics
University Farms, Large-scale Rice Farm
Smart Farming, Kyo-yasai Farm
Kitayama Forestry, Cellulose Nano Fiber
Japanese Sake Brewery
Yakushima World Heritage
Other Events Planned
Lecturers from Partner University
Students Exchange Program organized by KU's students
Laboratory Visits
Partner Universities
Cambodia: Royal University of Agriculture
Indonesia: IPB, ITB, UGM, Mulawarman University, Tanjungpura University
Taiwan: National Chung Hsing University, National Taiwan University
Thailand: Kasetsart University, Khon Kaen University, Mahidol University
Additional Note
In case you fail to obtain the active student certificate until December 8 due to technical issues on administration office, please let me know. But it must be available at maximum on December 10.
A tentative schedule can be downloaded here https://bit.ly/TentativeScheduleWP21-01
Information Center
Email: ku-office.faperta@apps.ipb.ac.id
Yuri: 0813-1389-1835
Ardy: 0853-1111-2256
Lecturers in Charge
Dr Ernan Rustiadi (Coordinator of IPB-KU Collaboration)
Dr Nurhayati (Program-specific Associate Professor)
Dr Andrea Emma Pravitasari (Program-specific Assistant Professor)