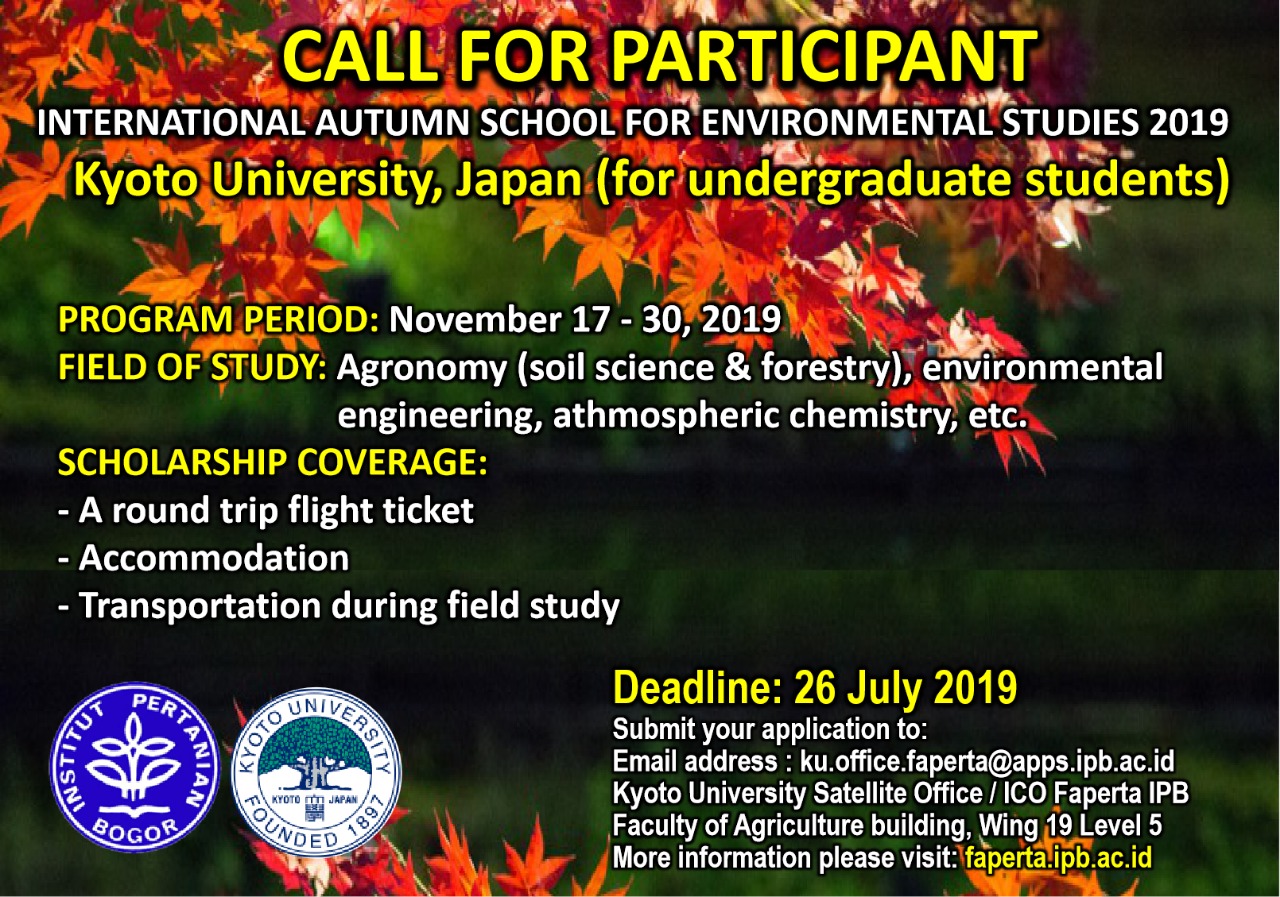 ANNOUNCEMENT
INTERNATIONAL AUTUMN SCHOOL FOR ENVIRONMENTAL STUDIES 2019
– Environmental and disaster management in Kyoto, Wakayama and Nara prefectures –
The Wild & Wise Collaborative Learning Program
Graduate School of Global Environmental Studies, Kyoto University
For Undergraduate Students at Selected Foreign Universities
The Graduate School of Global Environmental Studies (GSGES), Kyoto University (KU), offers an Autumn School for
undergraduate students, focusing on environmental and disaster management in coming November 2019.
Implemented based on recommendations from participating university in south-east Asia, the Wild & Wise Collaborative Learning Programs aim to reinforce the KU's efforts to cultivate a new generation of leaders in the world by offering the opportunity of studying in KU for international students together with KU students. In this program, the GSGES provides an opportunity for international undergraduate students who are interested in environmental studies to an intensive advanced environmental management course along with international exchange in Japanese students. All programs will be provided in English.
Number of students to be accepted: 12
Qualification: 1) High-achieving students who are currently full-time registered students in a undergraduate program in one of these universities: Hanoi University of Science and Technology, Hue University of Sciences, Hue University of Agriculture and Forestry, and Da Nang University of Technology, Mahidol University, and Bogor Agricultural University. Students are required to possess high English skills sufficient to discuss environmental and disaster topics with other participants.
2) Candidates who have never participated in a short-term program organized by GSGES, KU are only able to apply for this program.
3) Students who are currently enrolled his/her undergraduate course in the one of universities listed above during this program, with high academic grading scores.
Duration of stay in Kyoto: 17 November – 30 November, 2019
What this program offers: This program offers special lectures, field study in Kyoto, Wakayama, and Nara prefectures for environmental and disaster management delivered in English. Details of the program are
provided below.
Fields of study: Natural disaster and disaster prevention, Agronomy regarding soil science and forest management, or Geographic information science in environmental studies.
Scholarship coverage: – A round-trip flight ticket between the nearest airport from your university and Kansai Airport/Itami Airport (Osaka)
– Full coverage of accommodations
– Transportation costs during field trip
– Accommodations: TBD
Expenses incurred by individual participants:
– Accident/Travel insurance (need to submit the proof to GSGES prior to the departure)
– Expenses for daily meals (breakfast, lunch and dinner)
– Transportation costs between an accommodation and Kyoto University (bus)
– Transportation costs in your country for this travel
– Others not listed above mentioned scholarship coverage
Selection schedule:
26 July 2019: Deadline for submission of application form via email to: ku-office.faperta@apps.ipb.ac.id
and submit hard file collect in ICO FAPERTA /ELAIS OFFICE.
Undergraduate Interview : 29 July 2019
End of August: Final notification of acceptance
Documents for application: 1. Application form (Form I)
CV (curriculum vitae)
Latest academic transcripts covering two undergraduate semesters in English
Recommendation letter from your current academic supervisor
Certification of your current student status in English
English language test score (if any)
Letter of Consent (Form II)
Passport (copy)
Scholarship record in your university (if any)
For applicants who pass the documentation screening, all documents (1-9) must be submitted
via email to ws2019@ges.kyoto-u.ac.jp by 5 August 2019. Any formats are accepted except item 1&7 (Form 1&2)
All information you provide to GSGES is used for this winter school program only. We encourage students with high academic capability and an interest in international academic exchange to apply for this Autumn school program.
Details can be found here : http://bit.ly/Docs_2019Autumn_KUGSGES
Information Center at Bogor Agricultural University
Kyoto University Satellite Office / ICO Faperta
Faculty of Agriculture Building, Wing 19 level 5
Faculty of Agriculture, Bogor Agricultural University
Contact Person:
Fazat Fairuzia (+62- 896-7861-2129)
Dr. Ernan Rustiadi
Coordinator of IPB – KU Collaboration
Faculty of Agriculture, Bogor Agricultural University
Dr. Nurhayati 
Program-specific Associate Professor
Faculty of Agriculture, Bogor Agricultural University
Dr. Andrea Emma Pravitasari
Program-specific Assistant Professor
Faculty of Agriculture, Bogor Agricultural University