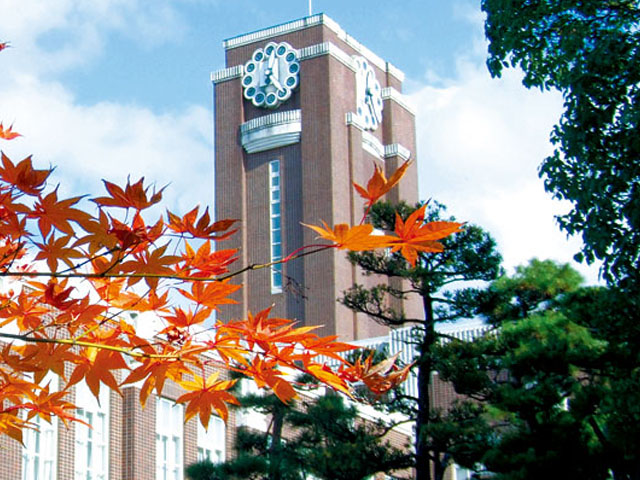 Autumn School Program in Kyoto University
The "Top Global University Project" of Kyoto University invites graduate students to apply for a scholarship for short-term study at Kyoto University. The selected students will join the International Autumn School for Environmental Studies 2018 Program at the Graduate School of Global Environmental Studies (GSGES) with participants from various countries. Number of students to be accepted: 16 (Sixteen)
Qualification*1 :
High-achieving students who are currently full-time or part-time registered students in a master's or doctoral program and have been recommended by one of these universities: The University of California, San Diego (U.S.A.), Université Lille (France), University of Western Brittany Brest (France), University of Caen Normandy (France), University of Stirling (Scotland), University College Cork (Ireland), University of Modena and Reggio Emilia (Italy), KU Leuven (Belgium), Macquarie University (Australia), Sokoine University of Agriculture (Tanzania), Banaras Hindu University (India), Mahidol University (Thailand), Kasetsart University (Thailand), Gadjah Mada University (Indonesia), Bogor Agricultural University (Indonesia), Tsinghua University (China), National Taiwan University (Taiwan).
Eligible students must plan to continue their graduate program after completing the Autumn School in Japan. Students must possess English skills sufficient to discuss environmental topics with other participants. 2) Candidates who have participated in the International Spring School 2016/2017/2018 organized by GSGES, Kyoto University are unable to apply for this program. Duration of stay in Kyoto: 20 October – 6 November, 2018
What this program offers: The opportunity to join an exclusive program which includes special lectures, field study throughout the Kansai region, and laboratory visits.
Fields of study: Environmental engineering, atmospheric chemistry, agronomy (included soil science, forestry) natural disaster and disaster prevention, human and environmental interactions and other themes in environmental studies
Scholarship coverage: – A round-trip flight ticket between the nearest airport from your university and Kansai Airport/Itami Airport (Osaka) – Full coverage of accommodations – Transportation costs during field study
Selection schedule & methods: By application document screening and interview.
14 July: Beginning of online application
29 July: Deadline for submission of application form via website
Early-August: Notification of screening results, adjustment of interview schedule
Early-Mid.
August: Interview (Skype, Video Conference System)
Mid. – End of August: Notification of interview results
End of August: Submission of original documents, confirmation letter, copy of passport
End of August: Final notification of acceptance
Documents for application:
Application form (via the website upon registration)
Latest academic transcripts (graduate or undergraduate courses)
CV (curriculum vitae)
Recommendation letter from your current academic supervisor
Certification of your current student status
English language test score (if any)
Application through the website must be completed by 23:59, 29 July, Japanese time. For applicants who pass the documentation screening and interview examination, all original documents for items 2-6 must be submitted by registered airmail or EMS/DHL/FEDEX by 30 August 2018 (normally DHL, FEDEX takes 2-3 days, EMS 2 days to 1 week, Airmail takes 1-2 weeks to Japan). At this time, we will request submission of confirmation letters and passport copies.
Postal address for original document submission: GSGES Autumn School Program Graduate School of Global Environmental Studies, Kyoto University Yoshida-honmachi, Sakyo-ku, Kyoto, 606-8501 Japan. Tel: +81-75-753-9167 E-mail: yuki.4x@kyoto-u.ac.jp
Web-site for application: http://www2.ges.kyoto-u.ac.jp/en/news/
*1 : Applicant must belong to a master's or doctoral program at one of the designated universities. Applicants who work as lecturers for a designated university but are studying at a non-designated university graduate program may not apply. Postdoctoral researchers, and research students are not eligible for this program. We encourage students with high academic capability and an interest in international academic exchange to apply for this scholarship program.
Information Center at Bogor Agricultural University
Kyoto University Satellite Office / ICO Faperta
Faculty of Agriculture Building, Wing 19 level 5
Faculty of Agriculture, Bogor Agricultural University
Contact Person:
Lutfia Nursetya Fuadina (+62- 812-9743-7669)
Dr. Ernan Rustiadi
Coordinator of IPB – KU Collaboration
Faculty of Agriculture, Bogor Agricultural University
Dr. Nurhayati 
Program-specific Associate Professor
Faculty of Agriculture, Bogor Agricultural University
Dr. Andrea Emma Pravitasari
Program-specific Assistant Professor
Faculty of Agriculture, Bogor Agricultural University