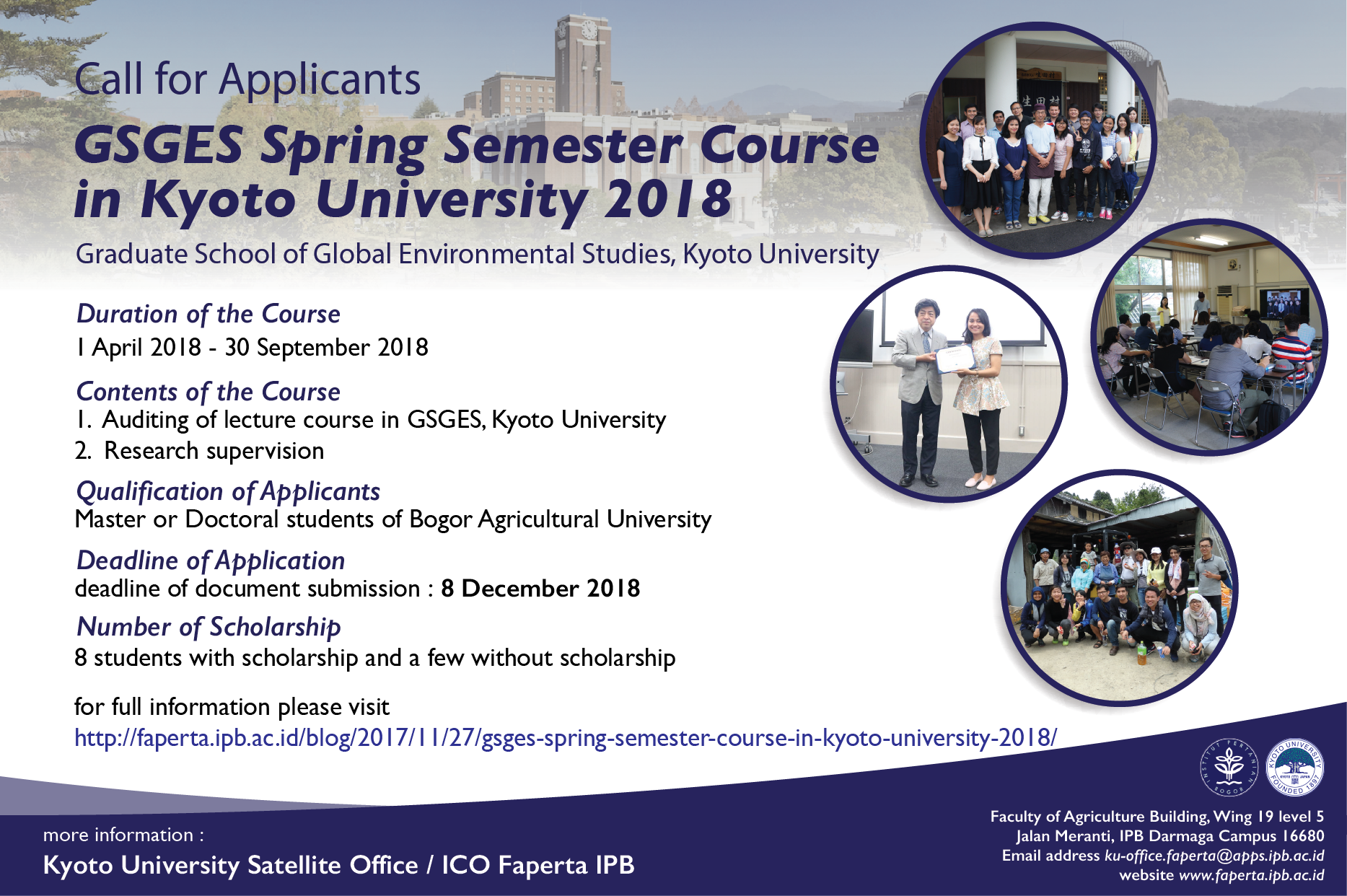 GSGES Spring Semester Course in Kyoto University 2018
ANNOUNCEMENT
GSGES (Graduate School of Global Environmental Studies), Kyoto University invites graduate students to join a Spring Semester Course for studying at Kyoto University under the auspices of two projects: the "Project for the Creation of Trans?ASEAN Environmental and Social Innovators through Development of Overseas Satellites", the "Top Global University Project", and the "Re-inventing Japan Project". The course consists of several lecture classes in the GSGES master's program, supervision on specific research topics by relevant professors at GSGES, a field trip and other educational activities.
Number of students to be accepted:
8 with scholarship and a few without scholarship
Course includes:
Opportunity to join the official course of the Master's Program at GSGES, supervision and training for your thesis study, and other educational activities such as a field trip. Each applicant may choose subjects according to his/her study topic. Eight credits or more can be obtained from interdisciplinary course work on environmental issues through the spring semester. A certificate will be issued to those who have completed the course requirements. These credits may be transferred if your graduate school recognizes GSGES credits. You may also publish working papers on the project web site.
Fields of study:
Environmental management, including science, social science, engineering, and agriculture.
Qualified applicants:
Students who are registered in a full-time or part-time graduate (master's or doctoral) course at the listed universities below who will continue their program after completing study in Japan.
– Hanoi University of Science and Technology (INEST) (Vietnam)
– Hue University (College of Agriculture and Forestry / College of Science) (Vietnam)
– Danang University of Science and Technology (Vietnam)
– Royal University of Agriculture (Cambodia)
– Bogor Agricultural University (Indonesia)
– Bandung Institute of Technology (SAPPK) (Indonesia)
– University of Indonesia (Indonesia)
– Mahidol University (Thailand)
– Kasetsart University (Thailand)
– Chulalongkorn University (Thailand)
Completion requirements:
Presentation of a study plan, completion of four compulsory subjects (8 credits), final presentation, study report, interview, continuing contact with the course by SNS or e-mail.
Duration of stay in Kyoto:
6 (six) months (From the beginning of April to the end of September)
Scholarship coverage:
– A round-trip flight ticket from the nearest airport to Kansai Airport
– Living expense of JPY 80,000 per month (includes national health insurance expense, partial coverage of room rental expenses)
– Room rent subsidy when required (depending on location). <Tuition fee in Kyoto University can be exempted for both students (with/without scholarship)>
Selection schedule & method:
By application document screening and interview.
| | |
| --- | --- |
| Document submission | 9th November to 8th December (extended) |
| Notification of document screening results | 18th to 22nd December |
| Interview | 4th to 17th January |
| Announcement of final selection results | Late January |

Documents for application:
Application form
Latest academic transcripts (graduate or undergraduate courses)
CV (acrobat pdf or Microsoft Word file)
Certification of your current student status
Copy of your passport (page with facial photography page and passport number, validity)
English proficiency certificate (TOEFL/IELTS)
Application form 1 and scanned images of documents 2, 3, 4, 5, and 6 must be submitted through e-mail 160audit@mail2.adm.kyoto-u.ac.jp and CC to ku-office.faperta@apps.ipb.ac.id before the deadline. All scanned images should be with 300dpi or higher resolution, and be highly legible. All Original documents must arrive by registered airmail or EMS / before 15th December 2017 (normally, EMS takes two days to one week, Air mail takes one-two weeks to Japan).
Postal address for original documents:
Senior Lecturer Ryo Kikuchi,
GSGES Spring Semester Course Office,
Graduate School of Global Environmental Studies, Kyoto University,
Yoshida-honmachi, Sakyo-ku, Kyoto, 606-8501 Japan.
Tel: +81-75-753-5635
E-mail: 160audit@mail2.adm.kyoto-u.ac.jp
Information Center at Bogor Agricultural University
Kyoto University Satellite Office / ICO Faperta
Faculty of Agriculture Building, Wing 19 level 5
Faculty of Agriculture, Bogor Agricultural University
Contact Person:
Muhammad Amin Shodiq (+62-856-9219-0800)
Lutfia Nursetya Fuadina (+62- 812-9743-7669)
Web-site for applicants:
This announcement and application form can be downloaded from the following website.
http://www2.ges.kyoto-u.ac.jp/en/news/
Download the announcement
Download the model class schedule for spring semester
Download the list of possible research themes with name of supervisors
Download the application form
We encourage applications for this course from students with a strong interest and high academic ability for international academic exchange.
Prof. Shigeo Fujii
Coordinator, GSGES Spring Semester Course
Graduate School of Global Environmental Studies, Kyoto University
Dr. Ernan Rustiadi
Coordinator of IPB – KU Collaboration
Faculty of Agriculture, Bogor Agricultural University
Dr. Nurhayati 
Program-specific Associate Professor
Faculty of Agriculture, Bogor Agricultural University
Dr. Andrea Emma Pravitasari
Program-specific Assistant Professor
Faculty of Agriculture, Bogor Agricultural University